We provide Visibility into
FPGA-based Prototyping Systems.
– Watch 1,000's of FPGA nodes with super low IP footprint.
– Capture hours of live operation at speed.
– Use custom & commercial prototyping platforms.
Bring Better Silicon to Market. Now.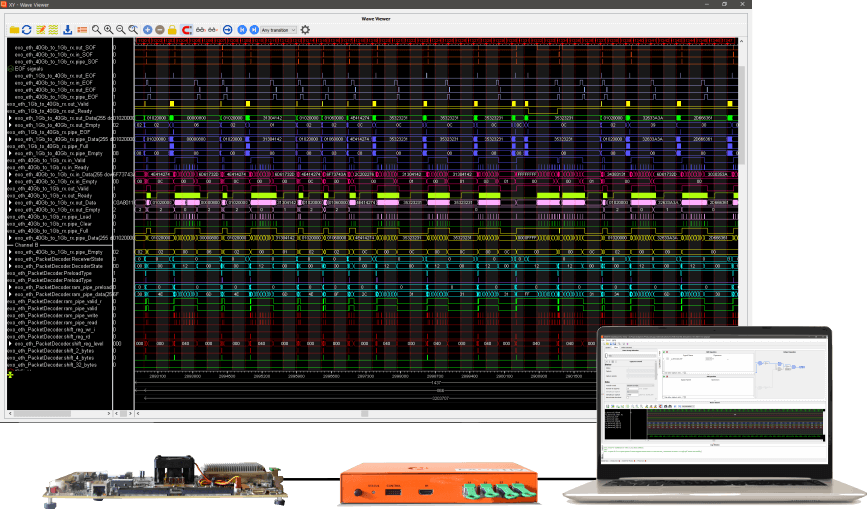 Capture hours from thousands of nodes at speed.
– Watch up to 32,768 nodes per FPGA simultaneously*
– Capture up to 8GB trace per probe unit
– Observe FPGAs at target speed of operation – typ. 250 MHz and more.
– Run continuous or interrupted burst capture, with data filtering and rich triggering options**
– Visualize very large waveform databases in integrated viewer
– Automate core insertion and data capture with scripting

* Within the limits of the target FPGA resources.
** Continuous streaming is limited by the bandwidth available on the transceivers.

Extreme visibility that scales with your needs.
Our solutions include configurable IPs attached to a large external storage connected with high speed channels. Memory resources in the FPGA do not grow with the capture size anymore.
Duplicate this visibility infrastructure at will. Scale with evolving silicon complexities.
Operate at full system speed and explore FPGA prototype in its target environment with unprecedented capture depth.
Reuse the same infrastructure on successive prototyping systems & boards, from commercial ASIC prototyping systems to pre-production test board and customer demonstration kits.

Use any FPGA board.
We use standard connectivity – such as SFP(+), QSFP(+), FMC or even SATA. Set up your prototype easily with existing connectors and standard plugin boards.
We support ASIC prototyping boards & FPGA development kits from:
Synopsys – The Dini Group – proDesign – HiTech Global – Xilinx – Intel – and many more…