Connecting EXOSTIV
Standard connectivity.
Exostiv probe connects to FPGA transceivers / SERDES at up to 12.5 Gbps with standard connectors available on many FPGA boards, including ASIC / SoC prototyping platforms.

SFP+ (copper or optical cables);
QSFP+ (copper or optical cables);
FMC HPC and LPC with a plug-in adapter;
SATA with a SFP+ to SATA connectivity kit.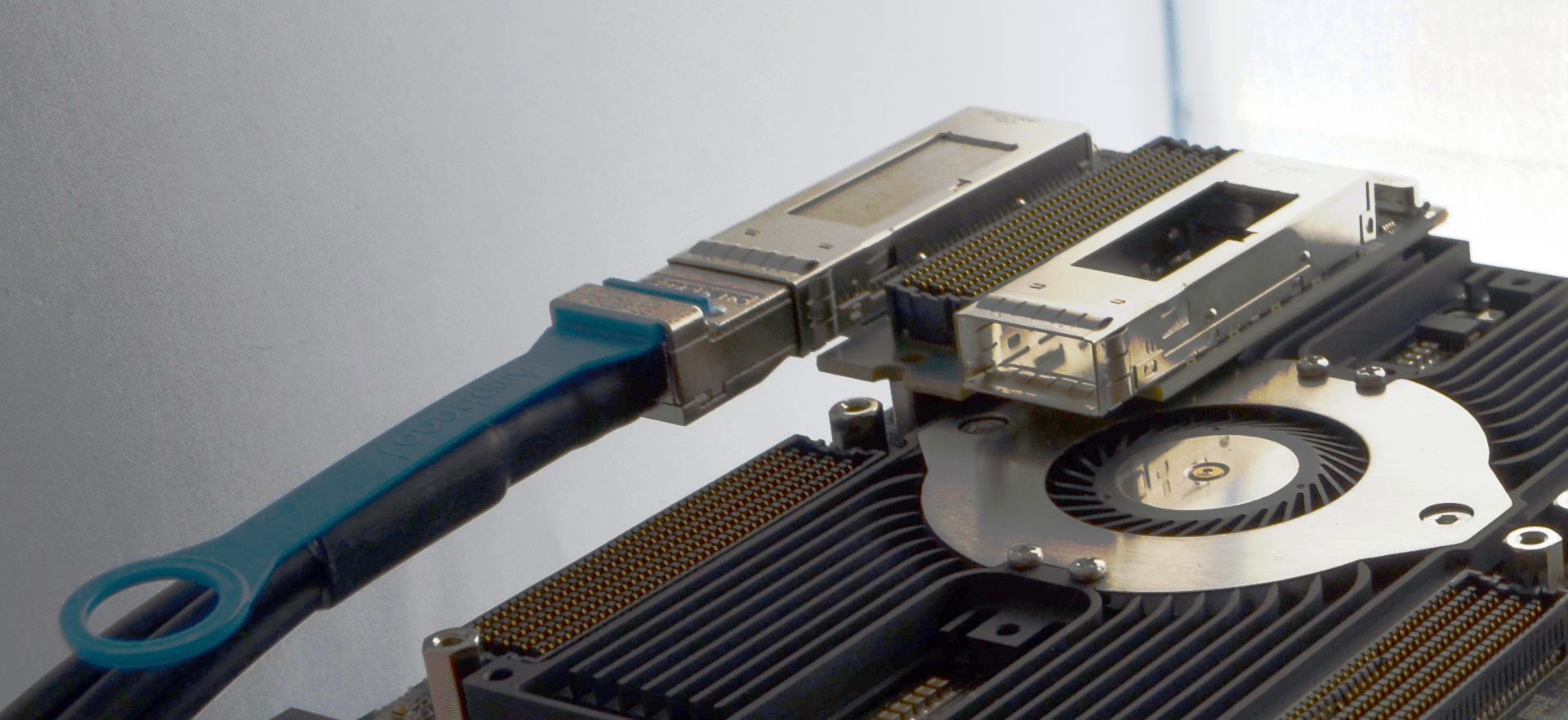 QSFP+ connectivity with add-on board.
Non-standard connectivity.
Exostiv can also use HDMI type-A, type-C or type-D connector with a custom pinout in case you'd like to add a cheap & small footprint connector to your custom board.
Benefits:

Compact / Reduced footprint on PCB necessary for debug.
Only one connector for up to 4 transceiver channels up to 10 Gbps each.
Right angle or vertical connectors available.
High availability of connectors and cables.
Limited impact on BOM costs.
Requires 2 extra pins on FPGA for IP downstream control.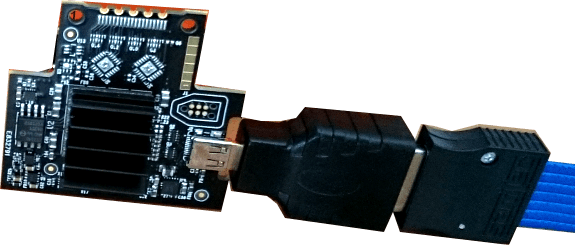 Location of front panel connectors on probe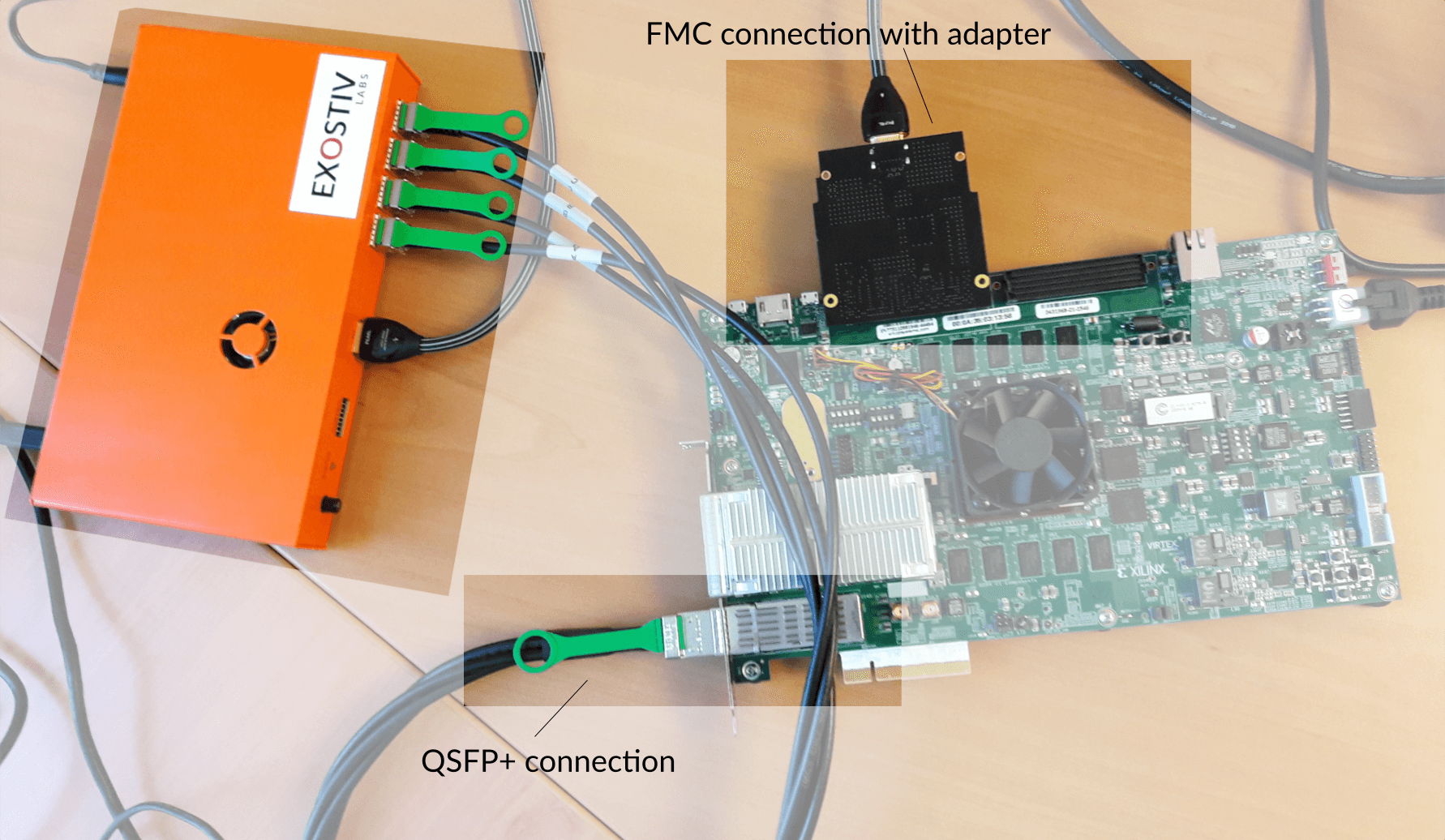 Which connector works for you?
1. Is there an existing SFP/SFP+/QSFP/QSP+ directly connected to the FPGA transceivers?
Check if you can reserve this FPGA resource (and the board connector) for debug – at least temporarily. You'll need 1 SFP/SFP+ connection per used gigabit transceiver
QSFP/QSFP+ connectors can be used with a 4xSFP to QSFP cable with splitter.
Note: most of our partners' boards or FPGA vendor standard demo kits feature SFP/SFP+, quad SFP/SFP+ or QSFP/QSFP+ connectors by default. And they are directly connected to FPGA transceivers.

2. Is there another type of connector directly connected to the FPGA transceivers?
With a board adapter, you can use EXOSTIV
FMC ('FPGA Mezzanine Card') is a good example.
Exostiv Labs has created a HDMI to FMC module adapter that works with EXOSTIV. Many other FMC to SFP/QSFP adapters can be found commercially.
Would you like to make your own adapter? We can help and review it with you.
Please contact us for details on our adapters, external references and custom adapters support.
3. For all other cases: you'll need to modify your board and add a connector.
Is space on the board critical? Go for HDMI or even Micro-HDMI !
See picture below – this is an Artix-7 board equipped with a tiny micro-HDMI connector, providing up to 4 x 6.6 Gbps bandwidth for debugging FPGA.

You do not have space constraints (lucky you)? Pick the one you like: SFP/QSFP/HDMI/micro-HDMI/other (+ adapter).
Still can't decide? Check our decision flowchart below
Quick links:
–
List of supported boards from the market.
–
Contact us.